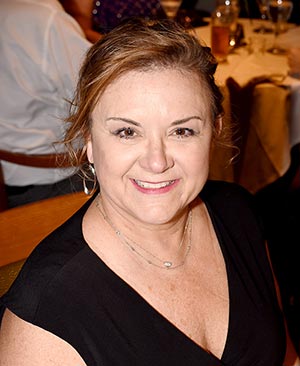 Dr. Kimberly Hefner
Dr. Hefner received her Doctor of Optometry degree from Northeastern State University Oklahoma College of Optometry in May 1991. She earned her Bachelor of Science degree in business from Oklahoma City University.
Dr. Hefner completed her training with an emphasis in ocular disease at Hummel Eye Associates and the Vision Education Foundation in Oklahoma City, OK, where she worked closely with corneal specialists and cataract surgeons in secondary and tertiary eye care settings.
She is a clinician at the Oklahoma Medical Research Foundation's Sjogren's Clinic, where she provides diagnosis, treatment, and clinical assistance in the research of Sjogren's, a chronic autoimmune disease. She is the State of Oklahoma's spokesperson for InfantSee program, a national program designed to educate parents on the importance of routine eye exams for infants and prevent undiagnosed eye health problems by performing free eye exams for children under 12 months of age. She is a frequent lecturer on the diagnosis and treatment of dry eye disease as well as the InfantSee program. Dr. Hefner has served on the Board of Directors of Prevent Blindness, Oklahoma, on the Oklahoma City University Alumni Board of Directors and the Board of Directors for the Oklahoma Association of Optometric Physicians.
She is dedicated to her specialty in ocular surface disease and to providing quality and compassionate eye care to her patients.
Dr. Victoria Fairchild
Dr. Fairchild was born in Ponca City, Oklahoma to George and Sheila Rahme and has two sisters: Ginny, Stillwater and Dawn, Oklahoma City. Dr. Fairchild attended Tulsa University and Oklahoma State University to earn her B.S. in Speech Pathology. She married Matthew Fairchild in 2008 and has been blessed with two children; George (2009) and Rahme (2012). She loves being a Mom, spending time with her family and friends, and travel.
Dr. Fairchild graduated with honors from Southern College of Optometry in Memphis, TN in May 2000. She then chose to further her education by working with John Reifschneider, D.O. in Leavenworth, Kansas. While working for Dr. Reifschneider she was exposed to the medical aspects of optometry. She observed numerous LASIK procedures, retinal pathologies, cataract surgeries, and glaucoma treatments. Dr. Fairchild also practiced primary care optometry by fitting glasses and contact lenses and performing routine diabetic, glaucoma, and cataract evaluations.
Wanting to return to her Oklahoma roots, Dr. Fairchild settled in Tulsa in late 2001 and purchased a practice, now known as Optique Professional Eye Care, PLLC in 2002. She utilized all the experiences and skills mentioned above to grow this practice as well as maintain wonderful long-term professional relationships with her patients and their families. Dr. Fairchild cares for and considers her patients to be like her family.
In early 2014, her husband, Matthew, took a new position in Oklahoma City and they moved their family to Edmond. They are getting settled and enjoying the area. She looks forward to helping her new Hefner Eye Care patients with their vision and ocular health needs.